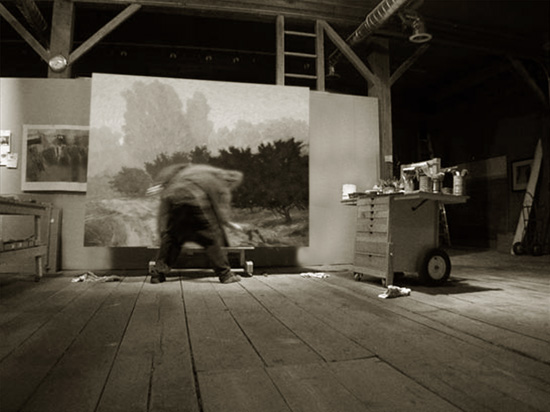 1948:  Born and reared in the amber light of northern California.
1968-72:  U.S.Navy ( Vietnam / Cuba / Italy ).
I completed my military service in Europe, where I came upon an exhibition of Van Gogh paintings.  This was akin to a religious experience for me at 23.
1972-77:  My "formal" art education happened at San Francisco Art Institute (BFA) and Sacramento State University (MA).  Tuition came to me via the streets of San Francisco where I was one of that city's first licensed street artists (I've got stories).
I skipped many of my studio classes in favor of working outside en pleinair.  My painting vocabulary remains strongly influenced by the textures and patterns of the landscape of my youth.  Even in my abstractions one can find remnants of California fence lines, rolling foothills and 200-year old cow paths.
1978:  I moved to West Michigan where I taught art for six years in local colleges (can anyone really teach art?) before settling into my full-time vocation as a painter.
Much of my inspiration comes from 19th century European artists, including painters from the Barbizon School and the Impressionists. In my figurative interiors one can easily see my love for the French "intimist" painter, Pierre Bonnard. 
My American influences include Albert P. Ryder, Milton Avery, George Inness and the mystical, tonal California paintings of Gottardo Piazzoni, and his grandson, Russell Chatham.  I am also especially drawn to the California light, compositions and searching, palimpsest painting surfaces of Richard Diebenkorn. 
Much of my work remains semi-abstract, but I am often lured away from my studio by the desire to paint directly from nature, a call I have answered since I was 15.  A local glossy once wrote that I am "rejoicing in the rightness of created things."  This may have been an illusion to God. However, I choose to read it from a Pantheistic point of view.  
I am not a theist.  Still, I am in awe of the universe, especially as it is manifest in nature, which I am willing to equate with divinity.
My wife, Victoria Peabody, is an art and early childhood educator and designer of educational tools.  Her aesthetic sense is more progressive than my own, and she keeps me a little closer to the "edge" than I am naturally inclined to go.  This is a good thing, since my tendency is to find a comfortable spot and not want to move. 
She has accompanied me on many of my painting trips, recording in her journals with sketches and notes, describing our excursions through Michigan, northern California, Italy and France as "...pleasant days suspended in quiet nature." 
Yeah, this is true.